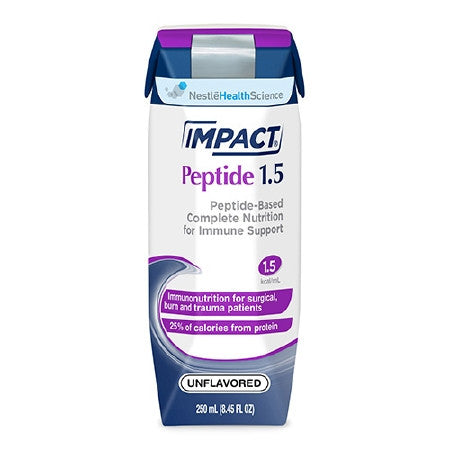 Impact Peptide 1.5, 250mL
Nestle's Impact Peptide 1.5 formula is a peptide-based nutrition source in a 250 ml carton for specialized tube feeding. Save when you order our discount-priced single-use carton or 24-count case from Cheap Chux. Nestle Health Science reports that its Impact formulas are clinically proven to support the a person's nutrient needs before and after major surgery. It's the go-to tube-feeding formula for surgical and trauma patients at risk for infection, and is supported by the 2009 Critical Care Nutrition Guidelines. The ready-to-use unflavored formula includes a patented blend of arginine, omega-3 fatty acids and nucleotides.

Studies show Impact Peptide 1.5 can help reduce the rate of infection and length of stay for patients. The balance of ingredients encourages absorption and tolerance. If you have questions about any of the nutrition-based oral and tube-feeding formulas from Nestle, contact our friendly, knowledgeable staff. We have been America's favorite source for nutrition products and home medical supplies for more than a decade.
Features:
Complete Peptide-Based Nutrition
for Immune Support
Contains immune-modulating ingredients supported
by the 2009 Critical Care Nutrition Guidelines
IMPACT PEPTIDE 1.5 contains a unique, evidence based
blend of arginine, omega-3 fatty acids and
nucleotides. When given as early enteral nutrition,
this blend of immunonutrients, present in other
IMPACT formulas, has been shown to support the
immune system and help reduce rates of infection,
LOS and ventilator days in surgery and critical care
Patients
Only IMPACT formulas contain a patented blend
of arginine and omega-3 fatty acids as well as
nucleotides clinically proven to support immune
function
Balanced peptide profile and 50% of fat as MCT
to help support absorption and tolerance
Nutrient profile designed to support wound management
Tetra Prisma
Ready-to-use
Unflavored
24 250mL packages per case
MFR# 10043900974009
---
We Also Recommend
---