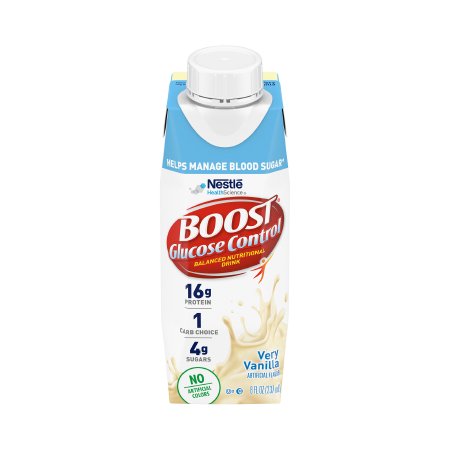 Boost Glucose Control, 8 oz., Vanilla
Boost Glucose Control drinks by Nestle were formulated for the special needs of diabetics. With our economical prices at Cheap Chux on 24-count cases of single-serve 8-ounce Boost Glucose Control in delicious vanilla, you can afford to keep these convenient one-serving nutrition drink cartons on hand for snacks and light meal alternatives. The 1 Carb Choice rating means less carbohydrates than other, more expensive glucose control nutrition drink brands. This is the drink of choice for it special formulation for lactose-intolerant consumers or patients, as well as those on kosher, low-carb or low-cholesterol diets. 

Vanilla is the flavor of choice among most Americans, which is why our vanilla-flavored Boost brand adult oral supplement nutrition drinks are so popular for those managing diabetes or carbohydrate restrictions. With our cancel-anytime subscription service, you can save time in your busy life by ordering regularly scheduled deliveries of Boost Glucose Control drinks by the case. We also carry economical prices on Boost Glucose Control in chocolate and strawberry flavors.
Features
Boost Glucose Control® is a balanced nutritional drink specially formulated for people with diabetes
It provides a balance of protein, carbohydrates and fat which are designed to help manage blood glucose levels as part of a balanced diet with just 1 Carb Choice per 8 fl oz container
Convenient reclosable cap - after opening, can easily replace cap on container to store remaining formula in the refrigerator for up to 24 hours
Boost Glucose Control® is intended for use under medical supervision as part of a diabetes management plan
Suitable for people with gluten sensitivity or celiac disease and is suitable for lactose intolerance (not for individuals with galactosemia)
Mfr# 00043900661100
---
We Also Recommend
---