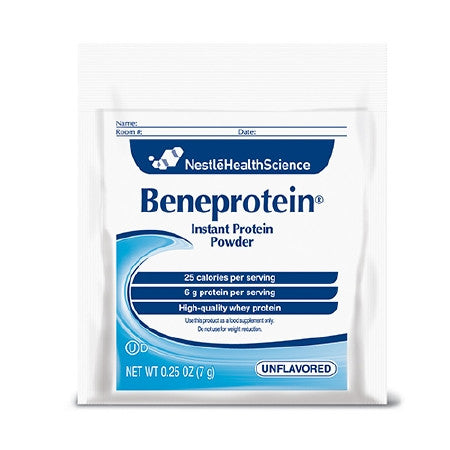 Beneprotien Powder, 7 gm Packets
Beneprotein 7-gram powder packs from Cheap Chux are 100 percent premium-quality whey protein that promotes skin health, wound healing, muscle strength and a stronger immune system by adding protein to your hot or cold foods. Order it in the economical 75-packet case from Cheap Chux. Nestle's Beneprotein is also an easy way to boost your diet. This tasteless powder can easily be dissolved or mixed into your food or beverages without compromising the taste or texture.

You won't find any fillers, sweeteners or artificial flavors in Beneprotein. Each Beneprotein single-serve packet contains 6 grams of good-for-you protein. It mixes without clumping, which means it's easier to flush feeding tubes. Plus, it's approved for kosher, lactose-free, gluten free and low-residue diets. Our family-owned company has been negotiating lowest prices on premium nutrition products for more than a decade. Shop all our Nestle Benefiber/Nutrisource powders and drinks.
Features:
100% high-quality whey protein
Each serving provides 6 g protein
Mixes instantly into a wide variety of foods and beverages without compromising taste or texture
Provides protein to enhance a regular diet, help promote skin health, wound healing, immune response, and muscle strength
Mixes without clumping for hassle-free tube feeding flushes
Contains no fillers, sweeteners or artificial flavorings
75 7 gm packets per case
Mfr# 10043900284306
---
We Also Recommend
---