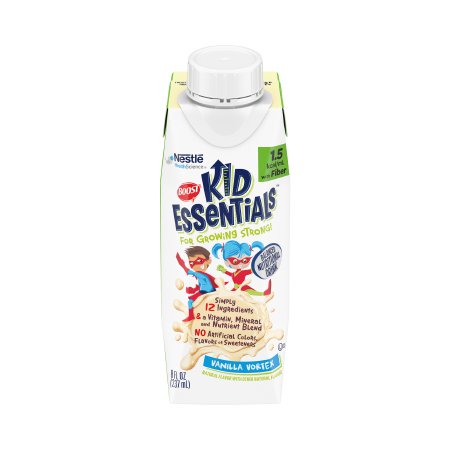 Boost Kid Essentials 1.5 with Fiber, Vanilla, 8 oz.
Nestle's vanilla-flavored Boost Kid Essentials 1.5 is a calorie-dense children's nutrition drink that offers 10 grams of protein and healthy fiber. Kids love the taste and the child-friendly disposable carton. Save money when you buy by the case at Cheap Chux. Our case of 24 8-ounce single-serve kid-friendly cartons is the go-to choice for drinks or tube feeding for children ages 1 to 13 that need more calories and nutrients.


Boost Kid Essentials 1.5 in this delicious vanilla flavor has 25 important vitamins and minerals and is rich in calcium to build strong bones in growing children. This 360-calorie kid's nutrition drink is lactose-free, gluten-free and approved for low-residue and kosher diets. Boost Kid Essentials 1.5 provides more calories than Boost Kid Essentials 1.0, which we also carry in our complete-nutrition pediatric drinks collection.
MFR# 00043900663289
Features:
Nutritionally Complete Drink
Delivers more calories per serving than 1.0 cal formulas
Contains a blend of soluble and insoluble fiber
Meets or exceeds 100% of the American Academy of Pediatrics Vitamin D recommendation in a complete feeding
Child-friendly packaging.
Rich in calcium to help grow strong bones.
May be consumed orally or used as a tube feeding.
Provides complete, balanced nutrition for kids ages 1 to 13.
1.5 Caloric Distribution
Vanilla Flavored
24 8oz. brik paks per case
---
We Also Recommend
---