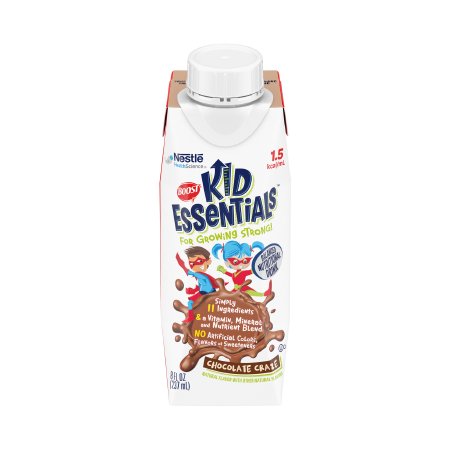 Boost Kid Essentials 1.5, Chocolate, 8 oz.
Pay less for Nestle's Boost Kid Essentials 1.5 in delicious chocolate when you order by the 27-count case from Cheap Chux. Our case contains 24 single-serve 8-ounce cartons of this chocolate-flavored liquid nutrition supplement for oral delivery or tube feeding. Designed for children ages 1 to 13, Boost Kid Essentials 1.5, with 335 calories per serving, has more calories than Boost Kid Essentials 1.0. Each drink contains a formulation of 24 vitamins and minerals, and it's rich in calcium to help build strong bones in growing kids.

Even picky eaters love the rich chocolate taste. It's a low-residue, lactose-free and gluten-free drink for kids on restricted diets. All Boost Kid Essentials nutrition drinks are also certified kosher. Use it as a meal replacement and/or snack. You don't need to make room in your refrigerator when you order chocolate-flavored Nestle's Boost Kid Essentials 1.5 by the case. You can store these compact boxed drinks without refrigeration. Once opened, cover and refrigerator leftover liquid.
Features
Boost® Kid Essentials™ 1.5 Nutritionally Complete Drink is a calorically dense pediatric formula that delivers more calories in less volume than a standard 1.0 calorie drink
This product comes in kid-friendly packaging for children ages 1 - 13 and may be consumed orally or used as a tube feeding
Convenient reclosable cap: After opening, can easily replace cap on container to store remaining formula in the refrigerator for up to 24 hours
Gluten-free and lactose-free, but are not suitable for people with galactosemia
Not for IV use
| | | |
| --- | --- | --- |
| Item# | Package Quantity | Price Per Pack |
| 00043900506814 | 1 Bottle | $12.99 |
| 00043900506814 | Bundle of 6 Bottles | $24.99 |
| 00043900506814 | 1 Case of 24 Bottles | $78.99 |
---
We Also Recommend
---