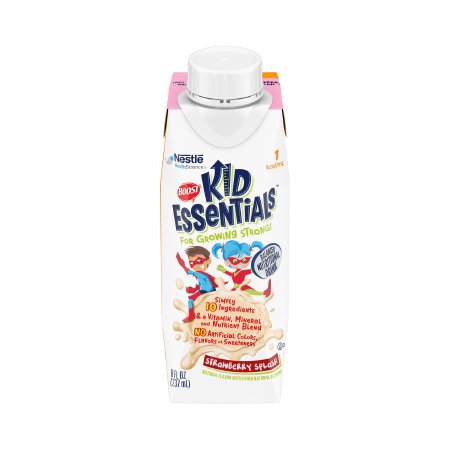 Boost Kid Essentials 1.0, Strawberry, 8 oz.
These Nestle's Boost Kid Essentials 1.0 nutrition drinks are more affordable with our economically priced 24-count case of 8-ounce single-serve cartons from Cheap Chux. Kids love the delicious taste of our strawberry-flavored Boost Kid Essentials with 24 essential vitamins and minerals important to a growing child's health. Designed for kids ages 1 to 13, these delicious strawberry drinks in child-friendly packaging are gluten-free and lactose-free for picky eaters and diet-restricted kids. Boost Kid Essentials drinks are certified kosher, too.

Each drink contains soluble and insoluble fiber and 7 grams of protein. Each children's supplemental nutrition drink meets or exceeds the American Academy of Pediatrics Vitamin D recommendation. Each ready-serve carton of Boost Kid Essentials by Nestle can be consumed orally as a meal replacement or used as a tube feeding. They make healthy snacks, too. There's no need to refrigerate these kids' nutrition drinks before opening. Store at room temperature until opened. Once open, cover and refrigerate. We also carry budget-priced cases of Nestle's Boost Kid Essentials in kid-approved chocolate and vanilla flavors.
Features
Each 8.25 fl oz carton of this tasty drink provides complete and balanced nutrition with 240 calories and 7 grams of muscle-building protein, plus 24 essential vitamins and minerals including calcium and vitamin D to help build strong bones
Convenient reclosable cap: After opening, can easily replace cap on container to store remaining formula in the refrigerator for up to 24 hours
Gluten-free and lactose-free, but is not suitable for people with galactosemia
Not for IV use
| | | |
| --- | --- | --- |
| Item# | Package Quantity | Price Per Pack |
| 00043900285740 | 1 Bottle | $11.99 |
| 00043900285740 | Bundle of 6 Bottles | $20.99 |
| 00043900285740 | Bundle of 12 Bottles | $31.99 |
| 00043900285740 | 1 Case of 24 Bottles | $60.99 |
---
We Also Recommend
---