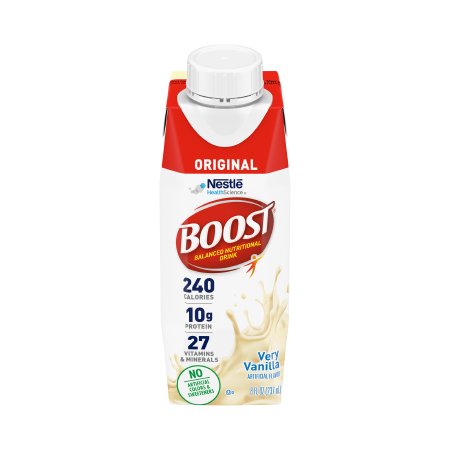 Boost, 8 oz, Vanilla
Vanilla-flavored Nestle's Boost adult liquid nutrition supplement is now available in the economical 24-count case from Cheap Chux. Each case contains 24 single-serve 8-ounce cartons in Nestle's popular "very vanilla" flavor. It's lactose-free, gluten-free and certified kosher for those on restricted diets. You don't have to refrigerate these ready-to-serve cartons of 240-calorie Boost Plus until they have been opened. Until you open them, simply store in a cool, dry place.

The adult oral supplement Boost by Nestle Healthcare Nutrition has 26 vitamins and minerals, including antioxidants selenium, vitamins C and E plus beta carotene to help support a healthy immune system. CalciLock is Nestle's trademarked blend of nutrients added to each carton of Boost to help support bone health. Use this drink as a light meal replacement or healthy snack. We also carry strawberry- and chocolate-flavored Boost at discount prices by the case. Enjoy free shipping on qualifying large orders.
Brand Boost
Manufacturer Nestle Healthcare Nutrition
Application Oral Supplement
Calories Per Serving 240 Calories

Container Size 8 oz. 24 Per Case

Flavor Very Vanilla
Preparation Ready-To-Use
User Adult
Features
26 vitamins and minerals
Antioxidants (selenium, vitamins C & E and beta carotene) to help support a healthy immune system
Contains CalciLock blend of essential nutrients to help support bone health
| | | |
| --- | --- | --- |
| Item# | Package Quantity | Price Per Pack |
| 00043900582764 | 1 Bottle | $11.99 |
| 00043900582764 | Bundle of 6 Bottles | $17.99 |
| 00043900582764 | 1 Case of 24 Bottles | $46.99 |
---
We Also Recommend
---