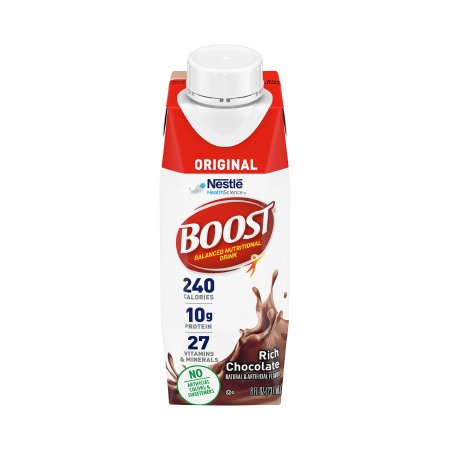 Boost, 8 oz., Chocolate
Get a premium oral adult nutrition supplement for less when you order chocolate-flavored Nestle's Boost in the economical 24-count case from Cheap Chux. Each case contains 24 single-serve 8-ounce cartons in Nestle's "rich chocolate" flavor. Boost adult nutrition drinks are lactose-free, gluten-free and certified kosher for those on restricted diets. Each serving of Boost by Nestle has 26 vitamins and minerals, including antioxidants selenium, vitamins C and E plus beta carotene to help support a healthy immune system.

CalciLock is Nestle's trademarked blend of nutrients added to each single-serve carton of Boost to help support bone health. Use this drink as a light meal replacement or healthy snack. We also carry vanilla- and strawberry-flavored Boost for adult nutrition. Save time on re-ordering when you subscribe to our delivery service that will deliver a case or cases of Boost to your door on your scheduled dates. Cancel the subscription delivery service at any time.
Manufacturer # 00043900169729
Brand Boost
Manufacturer Nestle Healthcare Nutrition
Application Oral Supplement

Calories Per Serving 240 Calories
Container Size 8 oz. 24 Per Case
Flavor Rich Chocolate


Preparation Ready-To-Use
User Adult
Features
26 vitamins and minerals
Antioxidants (selenium, vitamins C & E and beta carotene) to help support a healthy immune system
Contains CalciLock blend of essential nutrients to help support bone health
---
We Also Recommend
---