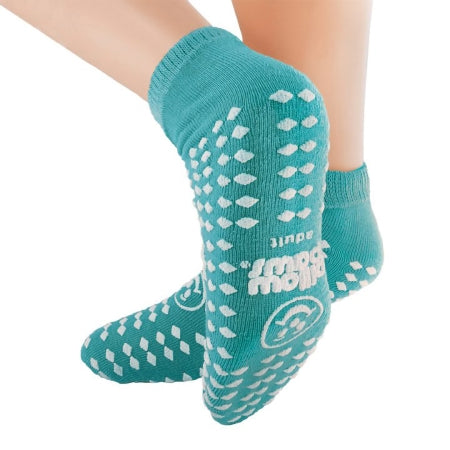 Pillow Paws Terries Size Adult
Cozy non-slip Pillow Paws slipper socks in the adult size (shoe sizes 5 to 7) from Cheap Chux are double-imprint socks with slip-resistant tread on both the top and bottom of the sock. So, if you put them on right side-up or upside down, you EquipmentFootwearstill have that slip-resistant tread making contact with the floor. This is especially helpful for recovering patients who might otherwise be hesitant about navigating slippery floors at home or in a care facility. Unisex Pillow Paws socks are also exceptional because the tread is printed on the smooth side, not the textured side, of the terry cloth sock material. This allows the ink to puff to create a better tread design, since the ink is not "lost" in the textured terry fibers.

Pillow Paws terry slipper socks have a trademarked Komfort Kuff, which is a less restrictive cuff designed to reduce bruising and decreased blood flow at the ankle. All terry cloth Pillow Paws slipper socks are color coded by size. These adult size socks are teal blue. Size XL (shoe sizes 7 1/2 to 10) are tan. Size XXL (10 1/2 +) are gray. We also carry specially designed bariatric Pillow Paws slipper sock styles.
Item Size Sock Color
 Adult 5-7 Teal



| | | |
| --- | --- | --- |
| Item# | Package Quantity | Price Per Pack |
| 1096-001 | 1 Pair | $11.99 |
| 1096-001 | Bundle 2 Pairs | $13.99 |
| 1096-001 | Bundle 3 Pairs | $15.99 |
---
We Also Recommend
---