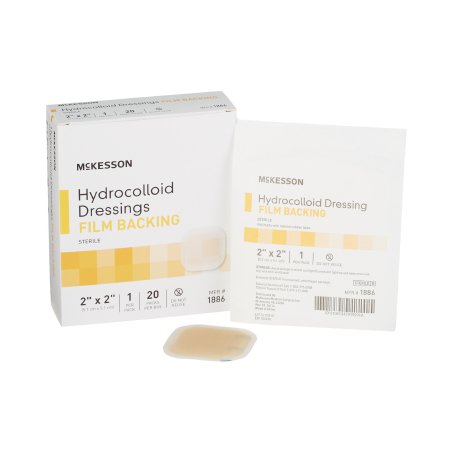 McKesson Hydrocolloid Dressing Film-Back 2x2 Sterile box of 20
Features
McKesson Hydrocolloid Dressings
Film Backing
2" x 2" (5 cm x 5 cm)
Primary or secondary dressing for wounds with light to moderate exudate. Helps maintain a moist wound environment to assist in autolytic debridement. When in contact with wound exudate, it forms a fluid/gel environment over the wound bed.
Indications: Management of partial and full thickness wounds such as leg ulcers and pressure sores. Help maintain a moist wound healing environment, protect the wound from external contamination and promote natural autolytic debridement.
Dressings consist of a wound contact layer of hydrocolloid polymers and a top layer of low coefficient of friction polyurethane film.
The film backing is translucent, which enables clinicians to monitor the wound between dressing changes.
Tapered edge reduces the risk of bunching and rolling up, maximizing wear time and increasing cost-effectiveness.
Sterile
Single Use
Not made with natural rubber latex.
Manufacturer item number
---
We Also Recommend
---