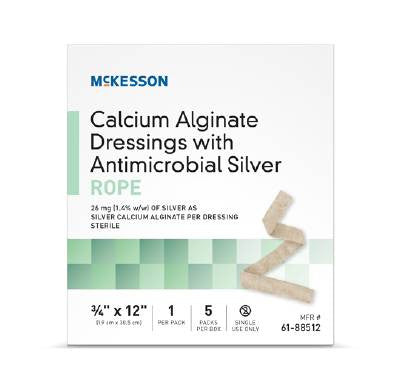 McKesson Calcium Alginate Dressing with Antimicrobial Silver Rope 3/4x12 inch Sterile box of 5
Features
McKesson Calcium Alginate Dressing with Antimicrobial Silver
3/4" x 12" (1.9 cm x 30.5 cm)
Rope
Assists with infection reduction. Primary dressings for wounds with moderate to heavy exudate. Silver ions are released in the presence of wound fluid and protect the dressing from bacterial colonization and provide an effective barrier to bacterial penetration. Requires a secondary dressing.
Indications: Effective barrier to bacterial penetration in moderate to heavily exuding wounds such as diabetic foot ulcers, leg ulcers, pressure ulcers, partial and full thickness wounds, donor sites and traumatic and surgical wounds.
Contraindications: Third degree burns, patients with a known sensitivity to alginates or silver and controlling of heavy bleeding. Should not be used with products that create an ionic exchange in the wound site, i.e., do not use with enzymatic debriding agents.
Recommended Secondary Dressings: Cover with an appropriate secondary dressing depending on the amount of exudate and frequency of dressing change.
Sterile
Single Use
Not made with natural rubber latex.
Manufacturer item number 3560
---
We Also Recommend
---