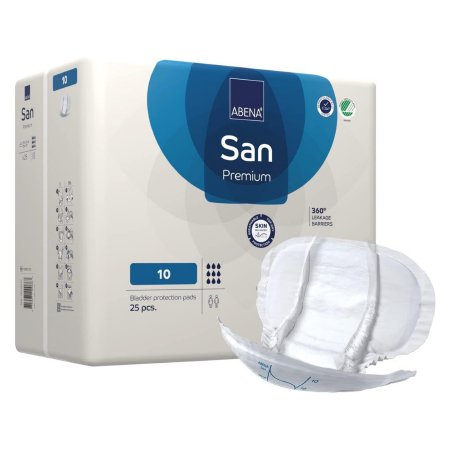 Abena San Premium Pads, Number 10
If you prefer the ease of pads to adult pull-ups, these Abena San premium pads offer a secure and comfortable way to take your incontinence needs on the go. Each one is easy to stash with you for quick changes without having to get undressed. Plus, Abena makes it easy to customize your level of protection with a numbered system. These number 10 pads (on a scale of 1-12) are great for moderate to heavy incontinence. They also work well for overnight use due to the high capacity of fluid ounces per pad. Wearers appreciate the flexible fit that promotes comfort throughout the day and allows them to continue enjoying their favorite activities.


Cheap Chux offers low prices on these and other reliable, high-quality incontinence products. These Abena San premium incontinence pads (number 10) can be ordered by the case for even better savings.
| | | | | | | | |
| --- | --- | --- | --- | --- | --- | --- | --- |
| Item# | Size | Color | Capacity | Package Quantity | Price Per Pack | Case Quantity | Price Per Case |
| 1000021312 | 14" X 28.7" | White | Heavy | 25 Each | $32.99 | 100 Each | $99.99 |
---
We Also Recommend
---