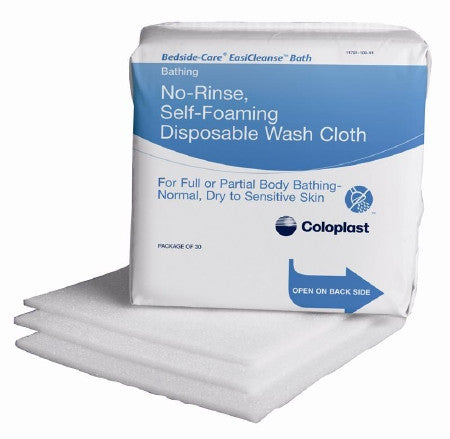 Coloplast Bedside Care Easicleanse Washcloths
Coloplast Easicleanse Bath No Rinse All Body Self Foaming Washcloth
Coloplast is a company that specializes in high-quality medical products for home health care. Coloplast Bedside-Care® EasiCleanse™ disposable washcloths are no-rinse, self-foaming washcloths designed for gentle, non-irritating all-body cleansing. They're self-sudsing and are highly effective for shampooing, bathing and incontinence cleansing. These Coloplast disposable washcloths (MCK70551800) give the patient the satisfaction of a sudsy bath without the need of a basin.
Non-irritating and non-sensitizing
pH balanced
Free of latex, dye, alcohol and preservatives
CHG compatible
Suitable for neonatal use
Ideal for am/pm cleanup, bedside bathing and partial baths
Coloplast Bedside-Care® EasiCleanse™ 30CT - 30 7-inch by 7-inch cloths
Cheap Chux is your number 1 source for your home health care supplies. We specialize in home medical equipment and incontinence products, offering a large selection, low prices and fast, reliable service. We have more than a decade of expertise.
Available in one size.
| | | | |
| --- | --- | --- | --- |
| Item# | Size | Package Quantity | Price Per Pack |
| 7055 | 7" x 7" | 1 Pack of 30 Each | $18.99 |
| 7055 | 7" x 7" | 2 Packs | $27.99 |
| 7055 | 7" x 7" | 3 Packs | $35.99 |
| 7055 | 7" x 7" | 5 Packs | $57.99 |
| 7055 | 7" x 7" | 1 Case of 30 Packs | $282.99 |
---
We Also Recommend
---