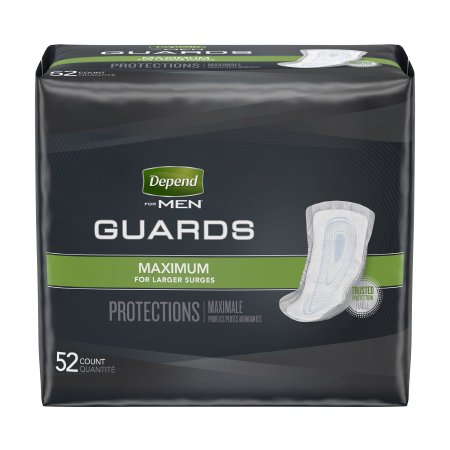 Depend Guards for Men
Depend Guards for Men
Depend Guards for Men are an excellent option to Depend diapers for men, for those who wish to use their own boxers or briefs but require added protection. Depend's guards for men can be worn in any close-fitting underwear. They offer discreet yet effective cup-shaped protection and worry-free odor control. Depend's for men guards are individually wrapped in cloth-like soft pouches so they can be carried discreetly. A major advantage of using pads rather than absorbent underwear briefs is that it is much easier to change a pad rather than to have to get completely undressed to change into fresh underwear.
Worn with one's own underwear
Cup shaped; designed to fit a man's body
COMFORT-FLEX® Leak Barriers
Soft, comfortable outer covering
One size fits most men
Form-fitting; doesn't add extra bulk
Adhesive strips for secure hold during activities
Includes effective odor control
Individually wrapped in pocket-size pouches
Cheap Chux is your source for the highest quality, most comfortable protective underwear and skin care supplies at the lowest prices.
Available in two pack options.
| | | | | |
| --- | --- | --- | --- | --- |
| Item# | Package Quantity | Price Per Pack | Case Quantity | Price Per Case |
| 13792 | 52 Each | $29.99 | 104 | $53.99 |
---
We Also Recommend
---