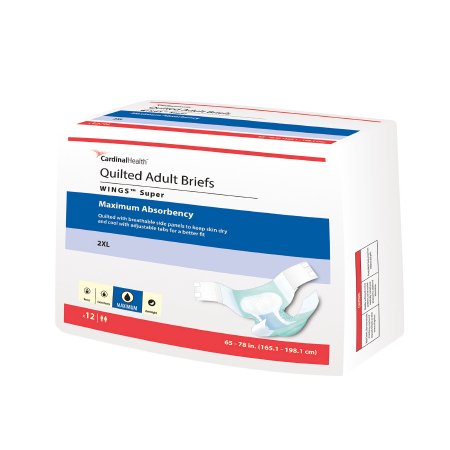 Wings Super Quilted XXL Adult Briefs
Specially designed for patient and resident needs, this XX-large unisex Wings™ bariatric absorbent underwear offers exceptional comfort and protection while controlling odors. It provides complete coverage and maximum absorbency, with an extra wide absorbent crotch, 4 tape tabs and a blue dryness strip. The polymer material and breathable top sheet is soft and comfortable for extended wear. The fastening system allows for easy fastening, removing and refastening.
Disposable adult diapers
Larger size protective underwear for special needs
Soft and breathable stay-dry facing
Moisture-proof backing; elastic leg gathers
Poly-Fresh™ absorbent polymer
Sturdy tape tabs
Blue dryness strip
Wetness sensor
Diamond and linear embossed
Maximum utilization and pad stability
Bariatric, up to 69-inch waist
6867093 - package of 12; 67093 - case of 48
Mfr- 67093
For more than a decade, Cheap Chux has provided consumers with a wide selection of home medical equipment and incontinence products. Our many years of experience enables us to offer these essential home health care products at affordable prices with fast, reliable service.
---
We Also Recommend
---